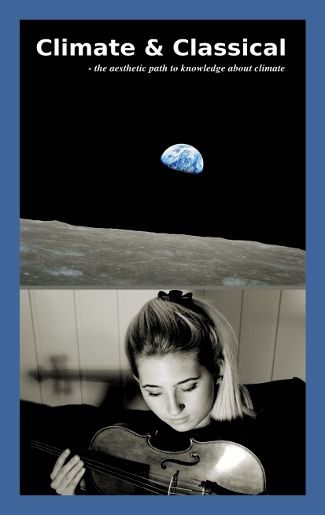 [heading type="1″]Climate & Classical brings an innovative approach to infotainment. A live performance of classical music is fully integrated with a visual presentation focusing on our collective knowledge about climate change.[/heading]
Arguable our biggest societal and scientific challenge, climate change engages each of us. Politicians, scientists, business leaders, governments, we are all concerned with climate change and its effects on society.
Internationally, a number of annual conferences grapple with climate related issues. Scientific breakthroughs give us new perspectives on our Earth system. Our understanding about climate is revised at a breathtaking pace.
Information about rapidly changing developments in the field often flow in a stream of contradictory information and misinformation from scientists, politicians, and the media. It is more than a little confusing –and seemingly impossible to know what to believe and not believe.
A solid knowledge of key concepts and processes can make it easier to maneuver in this complex climate landscape. Climate & Classical will provide you with knowledge about fundamental climate concepts and research, natural disasters, energy and the international political framework as well as making a beautiful introduction to the newest thinking about our climate challenges.
Read more about Climate & Classical here.
Contact: bente@blb.as